November 27, 2017
A prop, formally known as (theatrical) property, is an object used on stage or on screen by actors during a performance or screen production. In practical terms, a prop is considered to be anything movable or portable on a stage or a set, distinct from the actors, scenery, costumes, and electrical equipment.
https://en.wikipedia.org/wiki/Theatrical_property
How did you get involved with the Peninsula Youth Theatre?

I have four children and the older three spent all their free time participating in sports.  My 4th child, Katie, started to sing songs from Les Miserables when she was about three because my dad listened to the sound track. She started singing and never stopped.  She showed an interest in theater at a young age and I found a local theater group in Los Gatos and she was in a few small Monday afternoon shows.  The director told me that I should try and find something else for her.  At the time, she had a teacher with a child participating in a PYT show.  She encouraged Katie to audition for The Sound of Music when she was in the 3rd grade.  We had no idea what a monologue was or what kind of song to sing.  She memorized a poem and sang a song from Pocahontas.  She was cast as Gretyl in PYTs production of The Sound of Music in 2003 and her love of theater just took off.
When did you start working props for PYT?
At the parent meeting they were encouraging parents to sign up for props and I had no idea what a prop was but I have always loved arts and crafts and rummage/garage sales.  So I thought I would give it a try.  I decided to take a few set building classes at Foothill that helped quite a bit as well.  I also went to London and took a three week Stage Management class at the London Academy of Music and Dramatic Art.   I have learned a lot from theater "veterans" and all of the professional staff at PYT.  I love that they are always willing to take the time to teach.
You have been leading the prop volunteers for a long time, why is that?

I have been working on props on and off for 14 years.  I have also produced shows at Daves Avenue Elementary, Fisher Middle School and Los Gatos High School.  My background is Account Management so the organizational aspect of production works well for me, but I I always keep coming back to props as I miss the creativity.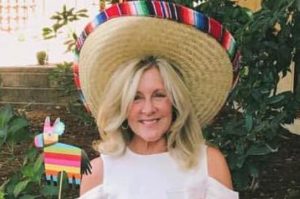 Which PYT show was the most challenging regarding props?
I think I would have to say Mary Poppins in 2016 as it was a prop heavy show with lots of "trick" props.  We had to pull lots of large items out of Mary Poppins' bag, fly kites on stage and make lots of chimney sweeps.
What is it about PYT that keeps you coming back to volunteer?
I really love the PYT family.  There are so many of us that have grown children and keep coming back to work on shows.  I live in Los Gatos and there are lots of theater organizations so much closer than PYT but I just connect to this organization.  The kids are all polite, parents hard working and the staff so professional.  I take a few breaks from time to time and find myself really missing the work.
The Peninsula Youth Theatre is so grateful to have dedicated volunteers like Laurie. They are a huge part of what makes this organization very special. Thank you all!
Date posted: November 27, 2017
News
»
Spotlight on Laurie Pimentel – Lead Prop Volunteer