February 12, 2018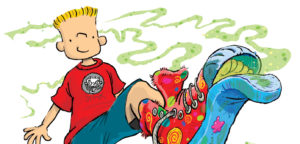 Peninsula Youth Theatre's next Stories on Stage show is none other than the world premiere of "Stink and the World's Worst Super-Stinky Sneakers" adapted for the stage by Karen Simpson Gardiner.
The book Stink and the World's Worst Super-Stinky Sneakers is authored by Megan McDonald and illustrated by Peter H. Reynolds. It features "Stink Moody", the little brother in the "Judy Moody" book series.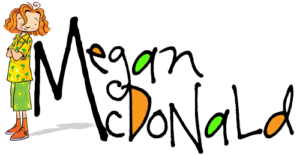 Recently, Spotlight was fortunate to speak to Karen about this "super stinky" show!
Karen, not only are you the director of the show, but you also adapted the story and wrote the script. What's it like being both writer and director? Any special challenges or benefits?
Karen: The great thing about writing and directing is that you can make it look the way that you picture it when you're writing the script. The hardest thing that I find as an author is when someone else directs your script they bring their own vision to what you wrote – and that's the way it should be! But it can be a bit hard to divorce yourself. Directing also lets you see and work out the bugs where your vision when you're sitting writing may not be exactly right for a scene. Using "Stink," as an example, I pictured the "Stinky Facts" scenes one way, and decided very early on that I wanted something more dynamic and with more action. Another benefit of doing both is that I can adapt things on the fly in rehearsal – I've added lines that help clarify things in places, and we've added some business based on an actors' strengths and talents.
You have incorporated a lot of dancing in this play, what was your inspiration and how hard was it for the cast to learn them?
Karen: I really like having everyone in the cast onstage as much as possible. I want everyone in my shows to have a good time, and really feel like they are meaningfully contributing to the story telling. So it started with my re-reading my script and thinking, okay, how can I make sure everyone is onstage as much as possible?  That's hard in a show like this sometimes – the book is called "Stink" and he is onstage most of the time. Even when I started writing the adaptation I was wondering how to use the cast more meaningfully, and the idea of using the "Stinky Facts" illustrations in the book as vignettes in the show seemed like a good way. But they do break up the action – how can I make that NOT weird? In the book, they just are at the end of chapters, so let's make them the end of scenes. As I started looking at blocking them they are really very short – what can I do to use more actors more meaningfully? Making them a dance flowed right from that.
I would argue that I had a harder time CHOREOGRAPHING the dance numbers than they had learning them! I am not a dancer, so I choreo things that I can do myself, with the idea that if I can do it they can do it!  I make up my own names for a lot of the moves too – the "Peppermint Patty Pogo" and "The Groucho" being a few.  So the moves aren't that hard. I think the hardest thing for the cast was how stylized they need to be. For every one of these dance numbers they need to look like they are having the time of their lives!  It doesn't work if they aren't having fun themselves.
This story seems pretty silly – just going by the title.  What was the silliest thing the cast has had learn about or do as part of this production?
Karen: Hmmmm….it is pretty silly. I think the cast might say that the silliest things they had to learn were the dance numbers! I think the facts about the "sense of smell" presented in the book and play are actually pretty interesting – they're just presented in a silly framework in a silly way.
Why should audiences come and see this show?  What makes it so special?
Karen: It's just a funny, silly show! "Stink" is in second grade in this book – so imagine smelly things that kids find hysterical and you'll find it in this show.
Spotlight thanks Karen for the interview and hopes you all come out and see this endearing show that will make you chuckle no matter what your age.
"Stink" performances are Friday, February 16th at 9:30 am and 11:00 am and Saturday, February 17th at 11:30 am and 1:30 pm at the Mountain View Center for the Performing Arts, SecondStage. Tickets are $10.00.
Blog and photos by Barbie Koch
Date posted: February 12, 2018
News
»
Something "Stinky" This Way Comes to PYT!