January 15, 2018
The timeless Hans Christian Andersen story about finding your place in the world has been given a cheeky update in this world premiere adapted for the stage by Karen Simpson Gardiner, PYT's Executive Director.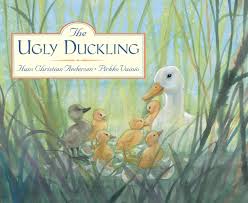 Besides Ugly and his family of ducks, you'll meet an Old Man, who serves as the narrator for the story, as well as Hansel and Gretel, The Little Mermaid, an Emperor, a tomcat, a bear, a peasant, chickens, swans and even two wild and crazy geese!
Performances are Friday, January 19 at 9:30 am, 11:00 am and 12:30 pm and Saturday, January 20 at 11:30 am, 1:30 pm and *5:00 pm. Tickets are $10.00. Purchase online or in person at the Mountain View Center for the Performing Arts (MVCPA) Box Office on Castro Street in Mountain View.
It's also the first time PYT will provide audiences with an "autism/sensory friendly" performance (January 20 @ 5:00 pm). PYT's Artistic Producing Director Loryn Hatten was delighted when she was approached by MVCPA to offer this type of show.  Read more about this special performance in San Jose Mercury's article:
Show will be a first for Peninsula Youth Theatre and Mountain View Center for Performing Arts
Directed by Beth McClelland, the cast includes: Lainey Barcomb, Olivia Cobb, Spencer Cook, Naomi Eason, Rachel Farhoudi, Megan Foreman, Avery Fox, Josh Gefken, Braden Koch, Eric Matsumoto, and Sarah Mulzet.
The production team includes: Barbie Koch, Producer, Naomi Shanson, Stage Manager, Hailey Shapiro, Lighting Designer and Dana Cooper, Light Board Operator.
Why should audiences come and see this classic show?
Beth:  "The Ugly Duckling" is a sweet show about a baby "duck" who doesn't fit in at first, but eventually finds his place in society as a swan. We hope that our audiences will empathize with "Ugly", and see that there is no need to discriminate against those who are different because everyone has their own special role to fill in our world.
How are the actors preparing for this "sensory friendly" show? 
Beth: For the most part, we are preparing just as we would prepare a show for a general audience. Since the artistic quality of the work will remain the same within a modified environment, the actors will not change what they present, but rather they will come to the show with different expectations of their audience. The actors are attending an orientation to help them understand some of the differences they might see in their audience, and, if time allows, we hope to do a rehearsal that incorporates some of the technical and environmental modifications the actors will experience during the Sensory Friendly performance.
Be prepared to see a talented group of young actors bring this family favorite to life. It will definitely charm you. There will  be dancing too! Don't miss it!
Blog by Barbie Koch
Photos by Barbie Koch and Karen Simpson Gardiner
Date posted: January 15, 2018
News
»
A Charming Duck Tale: PYT updates the classic "Ugly Duckling"